In 1993 the all volunteer Reef Ball Development Group was founded by Todd Barber with the goal of helping to preserve and rehabilitate imperiled coral reefs.


Reef Ball Foundation History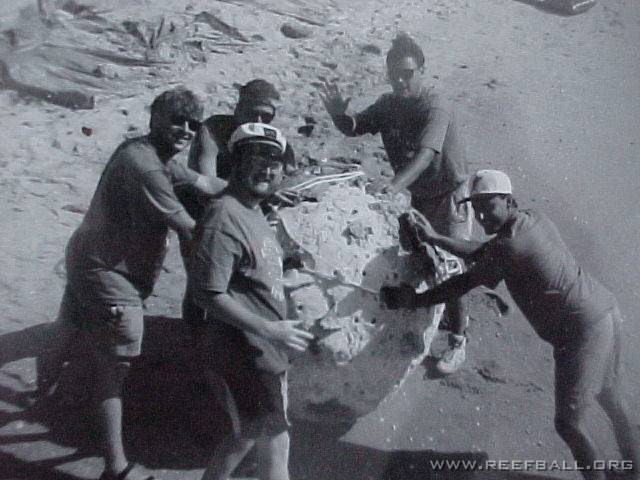 The First Reef Ball - 1992

In 1997 the non-profit Reef Ball Foundation was created to succeed the volunteer group.
beginnings
     reef ball foundation history
As an avid diver Barber witnessed the degradation of natural reefs and the destruction, by Hurricane Gilbert, of the Grand Cayman reef he had visited since his youth. Determined to do something to help increase the resiliency and to restore damaged and degraded reefs Barber and his father Jerry developed and patented Reef Balls: hollow artificial reef modules - first formed over beach balls, later with a central inflatable bladder - allowing the modules to be buoyant and to be deployed by swimmers or with a small boat, rather than requiring heavy machinery.
Over the next few years, with the help of friends and research colleagues at University of Georgia, Nationwide Artificial Reef Coordinators and the Florida Institute of Technology, Barber and a small number of colleagues and business partners worked to perfect the design.

developments

     reef ball foundation history
The material needed to be friendly to the marine environment and encourage colonization by and propagation of micro-organisms. A special pH neutral and hardened microsilica concrete was developed, and treatments to create a rough surface texture in order to promote settling by marine organisms such as corals, algae, coralline algae, and sponges.
An efficient, patented, fiberglass mold system was developed making the construction process simple. The result was the ability to create reefs that closely mimic natural reef formations providing habitat and shelter with relative ease. Later, with the assistance of coral culture specialist John Walch, new features were included to allow for the transplantation of imperiled or nursery-grown corals.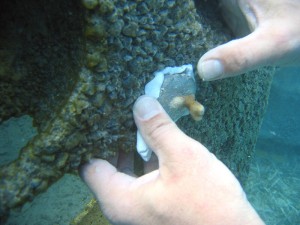 1993 - First Reef Ball reef. West Palm Beach ( shown in 1994)
projects and expansion

     reef ball foundation history



In August of 1993 the Reef Ball Development Group's first ocean test reef consisting of three Reef Balls (with the Florida Department of Natural Resources and the Palm Beach County Reef Research Dive Team) was deployed south of Peanut Island in the Intracoastal waterway. Three newer designs were added in August of 1994 and it was dedicated as a memorial reef. Reef Ball sizes now exceed 10 with numerous styles and exceptional variability.

Since its founding the Reef Ball Foundation has grown to expand its reach and its scope to include coral rescue and propagation, oyster and kelp reefs, mitigation and breakwater projects, use as anti-bottom trawling devices, mangrove restoration and nurseries, Living Shoreline Initiative seawall development and more. Just as importantly Reef Ball has always engaged in numerous education and outreach programs and classes regarding environmental stewardship and coral reefs.
Several of Barber's UGA diving friends involved from the initial volunteer group have remained active. Don Brawley went on to found Eternal Reefs which evolved out of the Reef Ball concept. Eternal Reefs addresses the problem of our declining reef systems and provides a natural burial option. George Frankel has served as Eternal Reef's CEO since 2001.
 today
With Atlantis Submarine's 1994 double corridor consisting of 300 Reef Ball in Cancun, Mexico, Reef Ball achieved international status. Following numerous successful projects in the Southeast, Gulf Coast, Europe, the UAE and Caribbean and with Reef Ball Australia's authorization as Reef Ball contractor Reef Ball became a truly global organization.
Reef Balls can now be found in almost every coastal state in the United States on every continent, including Antarctica, and are used in environments as diverse as tropical oceans, deep sea reefs, shallow bays and Lake Zurich in Switzerland - even in Arizona.